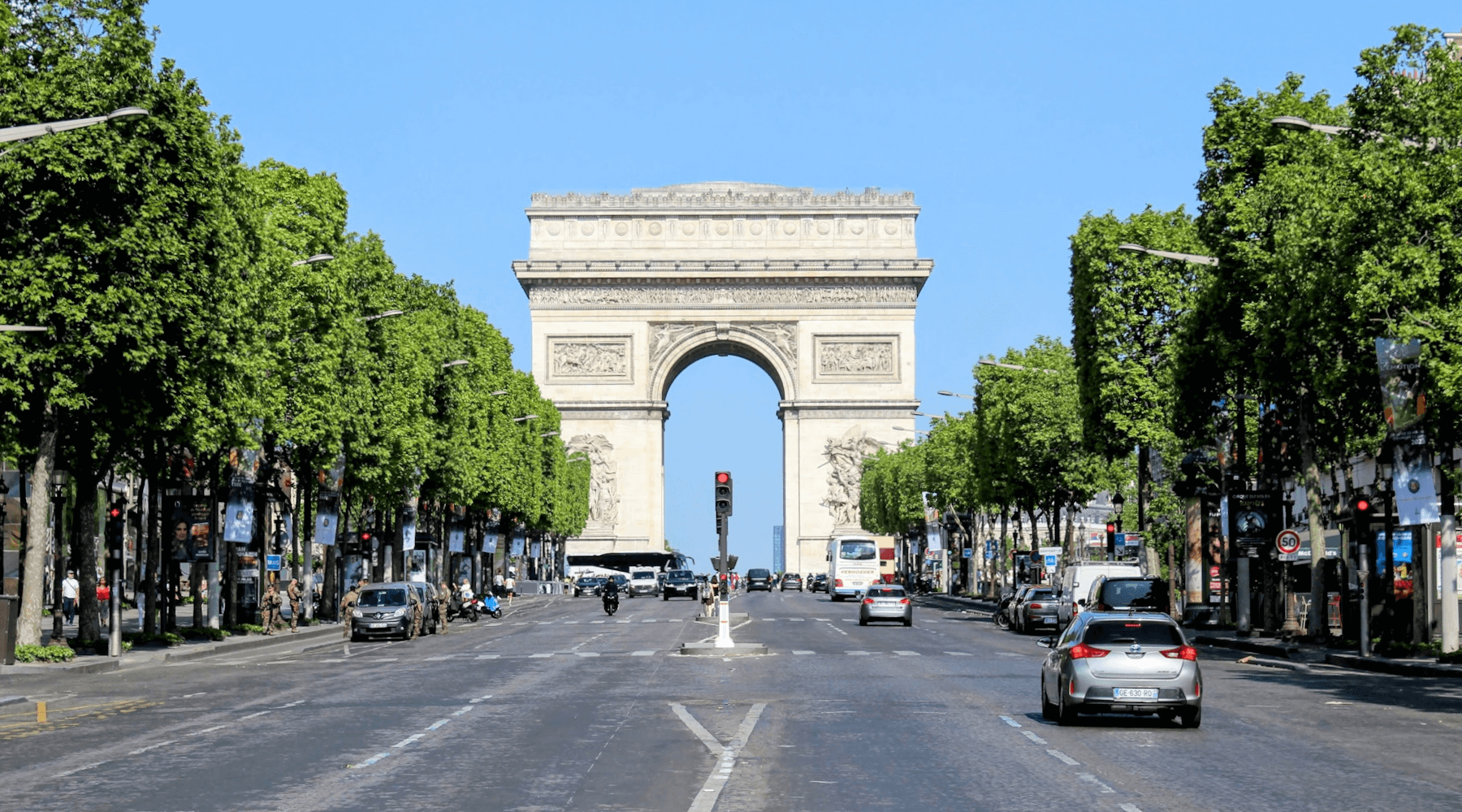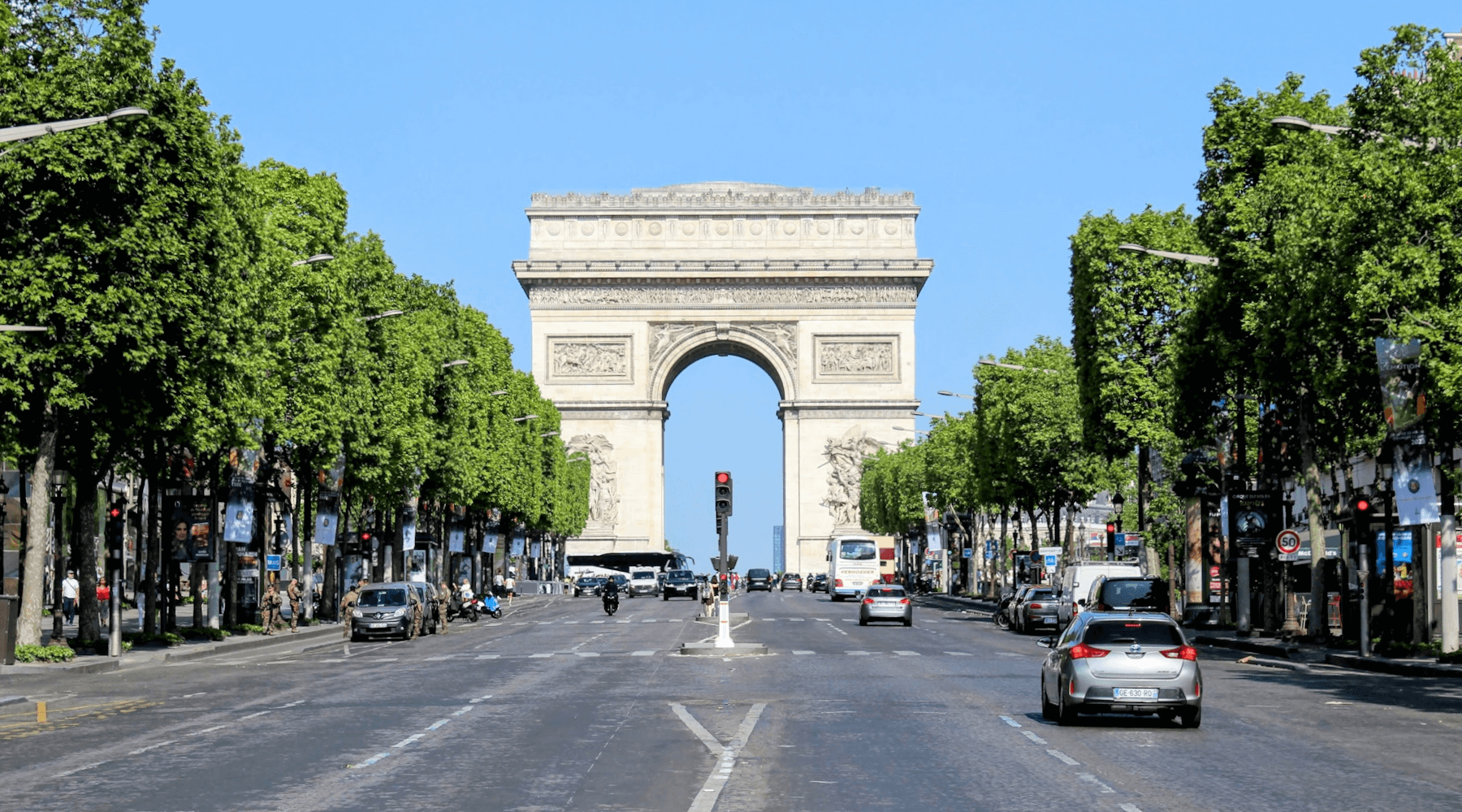 From Champs-Élysées to Saint-Germain-des-Prés: a day of literature and picnics in Paris
Our wedding anniversary dawned upon us, shiny and bright. We set out for the Arc de Triomphe, undecided about whether it would be worth going up. In the end, we decided against it and focused on finding a charming breakfast spot. Our eyes landed on Ladurée at Champs-Élysées – its quaint outdoor seating area felt perfect for our special day, but the long waiting line discouraged us. Eventually, we chose Café Joyeux, a remarkable initiative supporting the integration of individuals with disabilities. Their breakfast menu was competitively priced (11 euros for coffee, juice, croissant, or pain au chocolat), and the warm service and purposeful atmosphere quickly made it one of our favorite places.
We then walked down Champs-Élysées, popping into Lacoste, where the buzz for Roland Garros (which had just started) added excitement to the air. With no defined plans, we ended at Petit Palais, an unexpected gem right opposite the Grand Palais. Built for the 1900 Universal Exhibition, like its neighbour the Grand Palais, it became a museum in 1902, housing a significant collection of decorative murals and sculptures created between 1903 and 1925. Access to the permanent collection and the gardens is free. It was a pleasant surprise, less crowded compared to other attractions, with its charming gardens, a cafeteria, and inviting chairs amidst lush greenery, where we spent an agreeable time enjoying the sun.

Indulging in something as kitschy as a picnic beneath the Eiffel Tower was fitting only for our anniversary. So off we went, crossing the bridge in front of the intriguing Musée du quai Branly – Jacques Chirac on our way to a supermarket (Franprix again!) where we assembled the second picnic of the week, to be savored at Champ de Mars. Although the immediate area under the tower was closed and the park itself appeared a bit neglected, capturing a photo to mark the day was fun.
It was time for a less touristy experience, so we sought out Rue Cler, a picturesque hub of specialty food markets. We delighted in ice cream from Martine Lambert Glaces et Sorbets, followed by specialty coffee at Noir – Coffee Shop & Torréfacteur, a charming and distinctive spot with unique seating arrangements, where coffee took center stage. The quiet ambiance, absence of queues, and a chance to recharge made it a wonderful stop.
Yearning to explore St-Germain-des-Prés more thoroughly than the previous day, we rented 2 Lime bicycles and pedaled our way to Jardin du Luxembourg, passing Café de Flore, Les Deux Magots and Eglise de Saint-Germain-des-Prés in what became one of the funniest moments of this trip. Traffic is intense even on Sundays so please take care!
Upon arrival at Jardin du Luxembourg, we sat by the lakeside, adorned by rows of chairs, toy boats floating under the watch of families. Friends enjoyed lunch on the grass, relishing wine and a leisurely Sunday afternoon complete with classic picnic baskets (including champagne flutes).
Being so close to the Pantheon, we decided to pop by the entrance. Originally a church dedicated by Louis XV to Saint Geneviève, the patron saint of Paris, the Revolution in 1789 transformed the monument into a temple for Great Men. From 1885 the Pantheon has served as the final resting spot for illustrious writers, scientists, generals, clergy, and politicians who have played significant roles in shaping France's history. Entrance is paid. Details available at Practical information (paris-pantheon.fr).
Not far from the Pantheon, on Place de l'Estrapade, fans of Netflix's "Emily in Paris" will recognize the settings for both Emily's apartment and Gabriel's restaurant (named Terra Nera in real life) Although probably once a quiet parisian square (with a Brazilian- Portuguese library in one of its corners) this area now bustles with TV series fans and their instagramable poses.
After a session of Instagram-worthy photography, we paused near Sorbonne for drinks and a break before making our way, for the third time on this trip, to Shakespeare & Company. As you know, João is an avid reader and a bookshop lover and all our trips include a tour around iconic bookshops. Shakespeare & Company is an all time favourite but because it is very popular among tourists, to avoid the crowds, it's wise to visit on weekdays or early in the day. We had tried getting in twice before but ended up quitting or having to leave shortly after, so for the 3rd time we hoped to get enough time (and space!) to wonder around the rooms. The English-language bookshop in the heart of Paris, on the banks of the Seine, opposite Notre-Dame has been open since 1951. According to the library's website, the original Shakespeare & Company, situated at 12 rue de l'Odéon, was a hub for expat writers like Joyce, Hemingway, Stein, Fitzgerald, Eliot, Pound, and prominent French writers. The library exudes an irreverent, artsy vibe in every nook and cranny. Make sure you don't skip the chance to head up to the second floor and plop down on one of the big couches. You can enjoy the tunes played by talented visitors on the piano, or even give it a shot yourself.
If you find yourself still craving more literary treasures after your visit to Shakespeare and Company, make your way to the San Francisco Book Company, a short 10 minutes' walk. Established in 1997, this English-language bookstore near Odeon metro station specializes mainly in used books, offering an array of affordable reads spanning various genres and styles. While it may be more compact and less bustling than Shakespeare and Company, navigating its narrow aisles can be a bit of a delightful challenge due to its intimate size.
To wrap up our special day, we opted for a romantic dinner at the elegant Brasserie Vagenende. It's advisable to secure a reservation as the place tends to get quite busy (despite being expensive). The dining area boasts a timeless Belle Epoque style, with its elegant mirrors and intricate woodwork and the service from the attentive waitstaff is exceptional. We started with a comforting bowl of onion soup, followed by a perfectly cooked Foie de Veau and Chicken for our main courses. Vagenende, once a 19th-century patisserie, has a rich history, dating back to its founding in 1904. In 1966 the establishment almost became a supermarket but in 1983 the establishment became a listed building, making the protection of this treasure a priority.
Navigate the City of Lights with Our Landmark Map