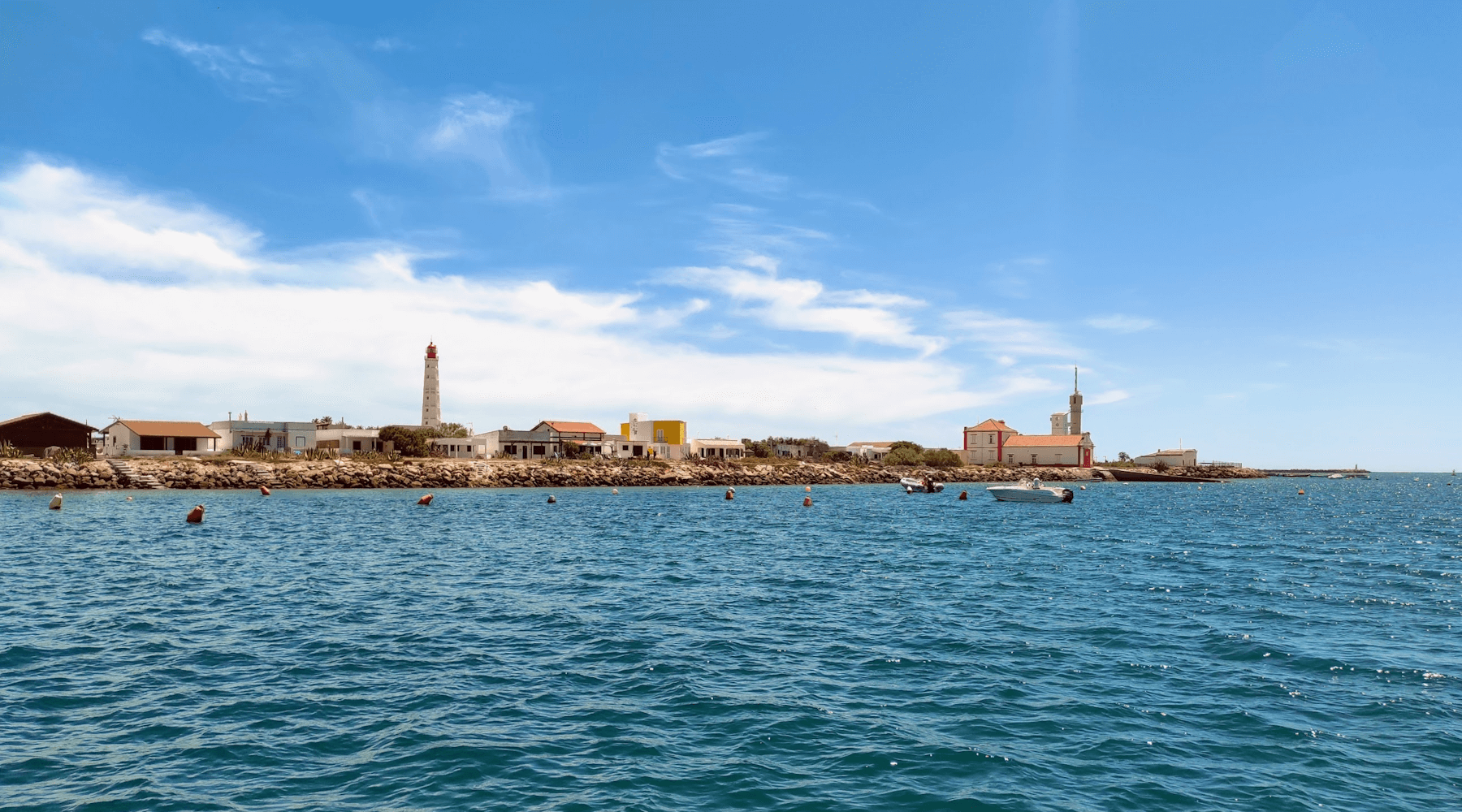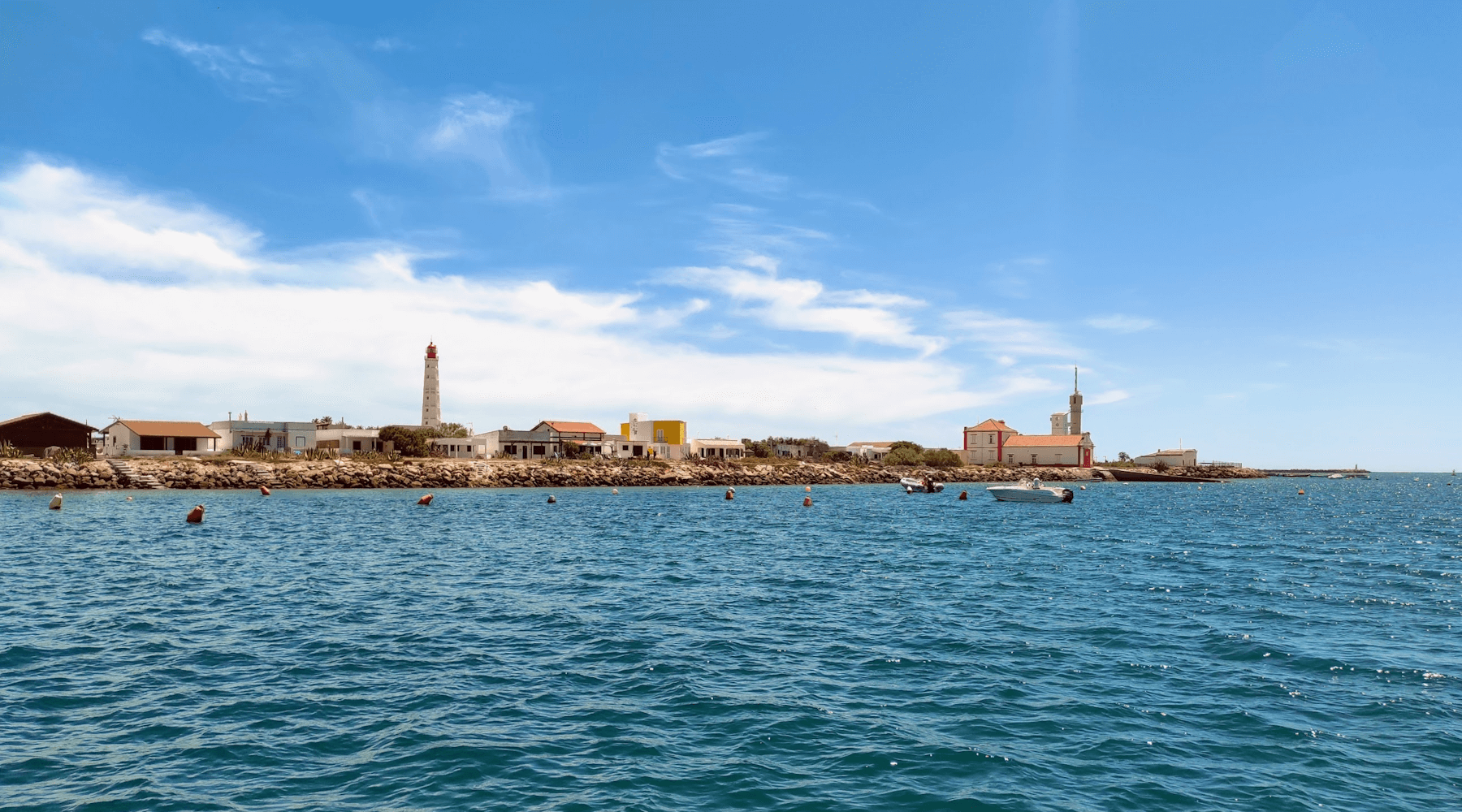 Olhão: Algarve's refreshingly different city worth discovering
We visited Olhão somehow unexpectedly, as we usually prefer the region of Alvor when visiting Algarve. João was speaking at the Iberian Technology Summit on April 29th, so we decided to take Friday off and enjoy a longer weekend.
The 1-day summit was held at Real Marina Hotel & Spa, lunch included. It is a beautifully located venue, in front of the marina and with a stunning view of the waterfront. The pool overlooks be promenade from a large balcony and the hotel also includes a spa. Despite the convenience of staying at the hotel's conference, we opted for staying at a smaller, more familiar and budget friendlier hotel – Hotel Cidade de Olhão.
Located a short 15-minute walk from the city's market, Hotel Cidade de Olhão proved to be the perfect location for our weekend stay with its renovated, fresh look and unmatched staff friendliness. Its' blue, impeccable façade stands out in a street with mostly old, poorly preserved buildings – of which you will see a lot in Olhão.
The reception is on the ground floor of a side building, which may seem odd at first sight, but which is connected from within to the main building where all rooms are located. It is open 24 hours a day and works as a bar with drinks and snacks until 11pm. In the mornings, the reception's open space transforms into the breakfast room, overlooking the pool.
Our room was perfect for a short stay, including a small closet, luggage rack, colorful chair, and small desk aside an extremely comfortable large bed. The room was also equipped with a modern kettle, a small fridge, and a hairdryer. The toiletries in the bathroom were Castelbel's, a famous Portuguese brand. Two windows opened onto the pool but were perfectly covered by blackouts for a long, quiet night's sleep. The views of the city are not amazing – you barely see the waterfront – but you can see an effort has been made to make the hotel as modern and appealing to the eye as possible.
The pool area gives a twist to the experience – comfortable sunbeds, modern "concrete-like" side tables and lots of plants contribute to the relaxing atmosphere. Two bathrooms (showers included) make it very convenient if you want to chill by the pool a little longer after check-out – a luggage room is available.
We had breakfast at the hotel only once, as our room fare did not include it and we wanted to explore what other options the city had available. It turned out to be a very pleasant surprise and very convenient for a lazy morning by the pool. Priced at 9 euros per person, the buffet included scrambled eggs, bacon, coffee, juice, a variety of bread and pastry, fruit, yoghurts and a selection of ham and cheese.
Private parking is not available, but we were able to easily park the car for free in the nearby streets. In busiest times, there are also paid parking options within Olhão.
I cannot stress enough the friendliness and availability of the staff – from cleaning to reception, everyone was extremely flexible, relaxed, and ready to greet you with a smile or kind words.
We visited Olhão in late Spring, on the weekend of Apr 28 – May 1. The temperatures in Algarve are usually higher than in the rest of the country and this weekend was no exception with an average of 25ºC every day. It was windy though so besides bringing a swimsuit, shorts, and t-shirts I would also advise bringing something light to cover up.
Start your exploration by visiting the lively Olhão Market (Mercado Municipal de Olhão). Known for its vibrant atmosphere and variety of fresh produce, including fish, fruits, vegetables, and local delicacies, it is the perfect spot for grocery shopping if you are staying at an apartment.
Take a leisurely walk along the seafront promenade, lined with palm trees, colorful facades, and outdoor cafes. Enjoy the refreshing sea breeze, admire the fishing boats, and immerse yourself in the laid-back atmosphere of the town.
Explore the Church of Nossa Senhora do Rosário, an impressive neoclassical building in Olhão. Admire its beautiful architecture and intricate details, both inside and outside the church.
If you have more than a couple of hours, embark on a boat tour to explore Ria Formosa Natural Park – its unique ecosystem, make it a wonder not to be missed if you are visiting the region. This wetland is classified with international ecological importance under the Convention on Wetlands of International Importance (RAMSAR) and there are numerous ways to experience it. We chose to take the 4-hour Islands Cruise which goes through the Ria Formosa channels of Olhão and the barrier islands of Farol, Deserta, Culatra (Stop 1) and Armona (Stop 2).
Priced at 20 euros/person, it departs at 1pm from Porto Recreio de Olhão. Tickets can be bought online or at Passeios Ria Formosa (where check-in is also done).
Our tour was guided by a well-humored, experienced guide, with numerous stories to share – unfortunately, our boat had an old stereo system which made it hard to hear what was being shared about the places we were navigating.
After departing from Olhão, we navigated for a while before seeing the lightening house that gives name to "Farol", the first island in our boat tour. At the southern tip of Farol Island, you will find the "Farol do Cabo de Santa Maria", a lighthouse that has become its iconic landmark. Note that the Islands Cruise does not stop at Farol Island.
Right next to Farol Island, you will see "Deserta" Island, also known as "Barreta" Island. With no permanent residents or buildings, it offers a peaceful and unspoiled environment. The only establishment on Deserta Island is a restaurant called Estaminé, where you can enjoy a meal while overlooking the ocean. To reach both Farol and Deserta Islands from Olhão, you can take a taxi-boat or ferry from the Olhão Marina. Remember to check the ferry schedules, as they may vary depending on the season.
The next island on the cruise is "Culatra" Island, where the cruise stops for 1,5 hours. This was our favorite part of the day! Cross the island on foot to get to Praia da Culatra – the island's main beach, which stretches along its coastline, provides ample space for sunbathing, swimming, and beach activities. Bring a picnic for lunch to enjoy while sunbathing. The tour gives you the option to book lunch at a fish restaurant, but we recommend taking the time to explore the island. The biggest struggle we had was finding a toilet – maybe because it was still low season, the beach toilets were not operating.
The second and final stop of the cruise is in "Armona" island. This short, 30-minute stop is ideal for an ice cream, which you can buy from either one of the cafes or the local ice cream shop. It is the least developed of the 3 main islands – after a short walk down the main street, we were ready to get back to Olhão.
Olhão has lots of restaurants available that will cater to all tastes and budgets.
Although we would usually prefer local Portuguese cuisine when travelling to other regions in Portugal – fresh fish and seafood in this region of the country are a must – this time, we made some concessions, travelling together with other people and having to comply to the conference schedule. We may not have had enough time to explore the town's city center thoroughly, but we left with a feeling that there are more international restaurants and café's that traditionally Portuguese – we could not find a good bakery/café for breakfast, as investment seems to be in standard international cuisine.
Located in the covered pier of Olhão Train Station, a centenary building now fully restored, Petiscais delivers a fantastic plate sharing experience, with its creative cuisine giving a Mediterranean twist to a curated selection of seasonal products. The restaurant owner, a natural storyteller, greets its guests with well-deserved pride in his work and offers valuable advice on what/how to order.
For a party of 4, we have opted for the pan-fried cheese with marmalade, its crunchy exterior contrasting with the soft within; razor clams, in a tasty sauce in which we soaked the traditional bread to the last drop; garlic fried prawns with mustard and orange sauce, the party's absolute favorite; and ribeye strips in chimichurri sauce. We paired it with an original wine Fat Baron from Setúbal region. For dessert, chocolate brownies to please everyone, although I would have wanted to try the more traditional dessert on the menu – pear soaked in wine. Note that the menu available differed from what was in the website or google maps, even though the concept stays quite similar.
Make sure to call the restaurant in advance for a reservation – Petiscais is quite popular after being recognized by a well-known portuguese restaurant guide, its original location and fabulous food making it one of a kind in Olhão.
Our favorite breakfast place, with a very homy atmosphere. It was packed when we arrived on Sunday morning so we were gently warned that it could take some time for our order to get through – the team is small (there was only 1 waitress for all tables) so our recommendation is that you visit when you are not in a hurry and have enough time to enjoy the quiet music in the background, read a book and chill.
We ordered 1 brunch + 1 toast for two plus 1 orange juice. Brunch included toast with a choice of side (we opted for parma ham and white cheese), 1 pancake with choice of jam/sauce, 1 small yoghurt bowl with granola, juice and 1 hot drink. Both toasts were exquisite, with the wild yeast bread taking center stage. The pancake dough was also quite special – consistency was top notch and the traditional pumpkin jam that came with it was the cherry on top of the cake.
Mogno – Your natural Choice Olhão
A suitable option for a late breakfast, brunch or light lunch by the waterfront. Its wide, varied menu includes poke bowls, bruschette, sandwiches, eggs and pancakes. We visited for an early breakfast and opted for eggs benedict + juice of the day and English breakfast (with beans, bacon, and scrambled eggs) + 1 orange juice. Good portions, good taste but nothing unique about it when you compare it to other European countries. Both the décor and menu are quite standard.
Located by the waterfront, in what seems to be a renovated warehouse, Hola Torito is an amiable, lively place. The menu was varied, including casseroles, quesadillas, burritos and tacos, both more traditional and unconventional options available. We had a good time, but don't expect an extraordinary experience.
Real Marina Hotel and Spa
Mogno - Your natural choice
How to get there and what to see
Olhão is a delightful surprise with its charming fishing village atmosphere and its direct access to the stunning Ria Formosa. Besides the Hotel Cidade de Olhão, where we stayed, there are various accommodation options to choose from. On our next visit, we are looking forward to leisurely exploring the tranquil Ilha Deserta and the pristine, crystal-clear waters of Culatra's beaches.